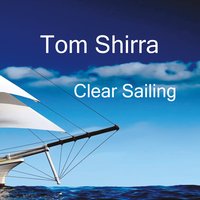 Clear Sailing
Clear Sailing released 2016 is Tom's 3rd Solo attempt and the first all out synthesizer album Tom published. The synthesizer was always a facination for him since it came out, he even purchased one of the first polysynth's when they came out, a Roland Juno CX3P. Some of the music represented on this album are concepts he has been carrying around a long time melded with fresh insites of the time.
All songs written, performed, recorded, and produced by Tom Shirra
All instruments Tom Shirra
Album Notes
© Copyright - Tom Shirra / Tom Shirra (888295393454) Clear Sailing Tom Shirra's third solo studio album represents another quantum leap in this artist discography. A uplifting Intellectual selection of instrumental music.
Streaming Links
Spotify YouTube Apple Amazon
Songs
Clear Sailing
Festival Dance
Take Flight
Wind Up Monkey
Creepy Critters
Self Aware
Off to the Club
Serotonin Whispers
C = fh
Neurons
What's in my Tea
Options De Chemical
Scatcing the Surface