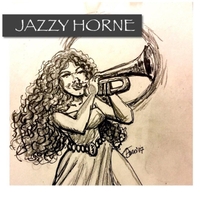 Jazzy Horne
Jazzy Horne released 2017 is Tom's 6th solo album and first all jazz album.
From the time when Tom was in high school at Education Center for
The Arts in New Haven CT., plus a few years of hanging out at Yale
and the West Chester conservatory of music he was fortunate to be
exposed to alot of people that were making the music or were
to become the people making music in Jazz.
After a time on the road Tom finally settled in the Tampabay region.
The tracks on this album represent a snapshot of the melding of
my life in jazz and music in CT coupled with my life & music in FLA.
I have been blessed to have met and worked with so many fine
Musicians over the years, most I still call Friend.
All songs written, performed, recorded, and produced by Tom Shirra
All instruments Tom Shirra
Album Notes
© Copyright - Tom Shirra / Tom Shirra (888295550833)
A contemporary cool jazz style with a fusion of Cool, Smooth, Funk, Afro-Cuban, and other music with tonal and rhythmic alteration.
Jazzy Horne Tom Shirra's sixth album is a representation of my love of horn music and Cool and Smooth jazz. All tracks written, performed, recorded, mixed and mastered at ShirraSong Enterprises Studios in Saint Petersburg Florida. All instruments played by Tom Shirra. Cover art TC Ford
Streaming Links
Spotify YouTube Apple Amazon
Tracks
Round the Bay
Jazzy Horne
Tampa Port
Ybor After Dark
The 411
Circus Sarasota
Ode to a Friend